World Water Week has just passed, and we hope it's given you some insight into the globe's water issues. This year's theme was 'Water, ecosystems and human development', and we wanted to touch on this point with our fantastic range of premium waterproof bottles. The more one-use plastic we consume, the more damage this does to our environment and ecosystems. Using a reusable water bottle also saves you money by reducing the need to buy bottled water when out; and a reusable coffee cup can even save you money on your morning latte in some stores! With that in mind, we've created a mini guide to our favourite water bottles on offer on Blackleaf.
Collapsible- Que Bottle
This innovative bottle is actually shrinkable from 8.5 inches down to just 5.5 inches, making this the perfect choice if carrying around bulky bottles is the main thing stopping you from drinking enough water. The unique design twirls down making this a piece of ingenuity as well as art; even though it does feature in art institutions such as moMA! This bottle is suitable for hot and cold drinks. Though it doesn't insulate the temperature, the secure lid does eliminate any spillage.
Ready for coffee- Earthwell Roaster Bottle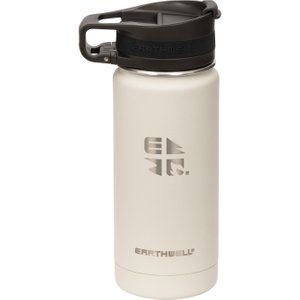 This 16oz bottle is the ultimate choice for a warming cup of coffee. The Templock double wall vacuum insulation keeps hot drinks warm for up to 10 hours, or a cold brew cold for 40 hours. Even the Roaster cap is insulated, and it's designed for sipping, drinking or chugging; perfect for a cup of tea of coffee. This uber stylish design is totally leak free, and the earthy colours are formed from a grippy and durable EarthGrip powder coat.
Lightweight- Northcore Adventure Bamboo Flask with Mug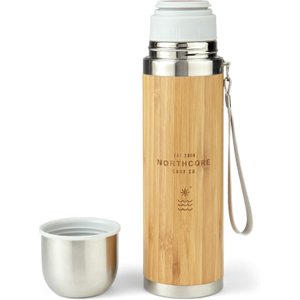 This real bamboo-wrapped body features a laser engraved logo, making it a stylish piece of kit to go into your backpack. The bamboo makes it incredibly lightweight, but the stainless steel interior keeps your drinks warm for up to 8 hours. If you're out on an adventure, take a break with a view and pour your liquid into the mug lid for a relaxing stop.
Practical- Stanley Classic Vacuum Flask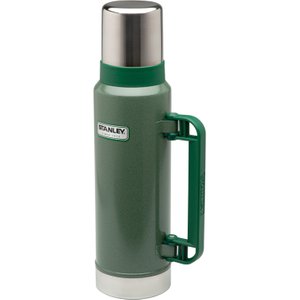 This 1.3 litre flask is big enough to provide an extra cup; making all the difference during long hikes or in hot weather. The classic design will never go out of style, but innovative features such as the folding handle making it easy to pack, and the removable mug lid makes this an extremely practical piece of kit. The electro-polished interior is naturally BPA-free and doesn't retain any previous flavours, meaning you can fill this flask with both hot and cold drinks for 28 hours. With an easy pour stopper that turns and pours from any angle causing no spillage, this flask truly is packed with thought and innovation.
Stylish- Mizu M5 Water Bottle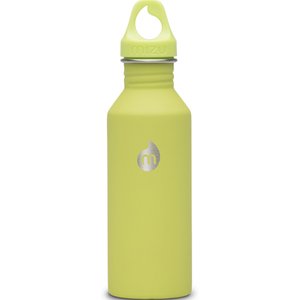 This sleek, minimalist design comes in a range of colours to suit every personality, making it the perfect choice for anyone looking for a fashionable bottle. The soft touch design is grippy, and the rain drop shaped lid adds an extra touch of style and practicality to the bottle. Use the loop to attach it to other things such as your backpack for bike rides and hikes, or simply use it as an easy way to unscrew the lid and access your water.