Each new season brings with it not only hopefully a change of weather but also new and exciting products from the premium brands like The North Face, who have a new range of outdoor gear called the Verto Climb Collection just around the corner.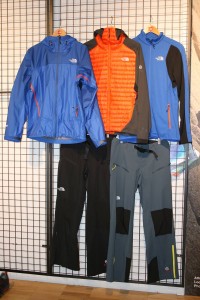 Every time The North Face release something new it's always worth checking out as there are always new technologies and innovations to behold which is something they have honed to perfection since the late 60's when they started making premium quality protective outdoor gear.  The North Face Verto Climb Collection shows this legacy as it's a system of products that work together and the four garments in the range weigh less than 1400g which is only a little more than most other waterproof jackets.
The Verto Climb collection consists of The North Face Anti-Matter Shell Jacket made using a dual layer Gore Windstopper Active Shell with taped critical seams so while it won't keep you completely dry under torrential rain it will certainly do the job under lighter showers and against snow, it will keep you warm against biting wind and with improved breathability from torso vents, you won't have to worry about internal moisture building up.  The Anti-Matter Jackets also have tougher fabric in key areas to hinder harness and rucksack wear and a helmet compatible hood.
For internal insulation The North Face Verto Micro Hoodie makes use of an 800 fill power goose down in incredibly lightweight Pertex Quantum GL Baffles in combination with fast-drying and moisture wicking FlashDry technology in specific areas where you perspire and lose the most heat from to keep you warm and dry.  You can also make use of The North Face Infiesto Jacket which can be used in combination with the previous two mentioned as a middle layer or a base layer with other thicker garments if you're heading to sub-zero climates.  The Infiesto Jacket is nicely fitted and is very similar to a microfleece and made from Polartec PowerDry that is fast moisture wicking so you dry much quicker than other similar layers.
The final piece of clothing in the collection is The North Face Meteor Pants which are a soft shell legwear constructed from Pertex Equilibrium, which like the rest of the Verto Climb range is fast moisture-wicking but features stretch woven leg panels for added mobility to aid you either carving up slopes, or traversing the wilderness.
Rounding off the collection as added-must haves is the Verto 32 Pack which features the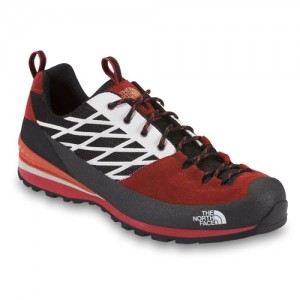 durable and lightweight nylon cargo fabric with plenty of storage space and The North Face Verto Plasma Shoes which are made with a gripping Vibram Sole with an EVA mid-sole making them extremely comfortable, highly flexible and supportive.  By combining the TNF Verto Climb range together you have the perfect complete outdoor gear experience with The North Face here at Blackleaf.com.