Rock up with Roxy and Quiksilver watches
When something new and exciting, bright and colourful comes into your life, you can't help but love it – we do! And with the brand new range of Roxy and Quiksilver watches at Blackleaf.com we think you'll be with us when we say surf style just got an extra splash of colour.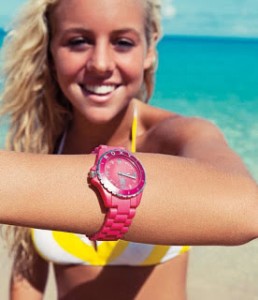 For girls, Roxy is undeniably the most sought after brand on the surf scene. And with every new collection they bring out you get colour, gorgeous feminine prints and a mixture of clothing and accessories that embodies every Roxy girls love for the summer and the surf – even in the winter.  Adding to their uber-feminine repertoire, Roxy has released a stunning selection of timepieces to add a flash of funk to your everyday look. Brand new to Blackleaf.com, the striking Roxy Jam watch is a contemporary take on a classic design. Drawing inspiration from a style that's clearly worked since the dawn of time, the Roxy Jam watch throws clean, crisp colour into the frame and packs it out with fantastic features including a polycarbonate case, Japanese 3 hand quartz analog movement, and marine grade stainless steel butterfly buckle.
Fancy a smaller and cuter version? the Roxy Jam S is a sized-down addition to what's on offer in the new range as well as the stylishly simple Roxy Prism watch, Roxy Free Love, Roxy Saffie and Roxy Syrup watches and the retro Roxy Women's Circuit watch.
Quiksilver don't disappoint either with their combination of old school styles and thoroughly modern additions to the range available at Blackleaf.com. Rather than just getting impressive with colour, Quiksilver expresses itself with textures that grab the eye and your fingers too. The Quiksilver Fragment watch is a bright slice of cool to really lift your look. Boasting a reinforced acrylic crystal face, digital time, calendar, alarm and chronograph, Quiksilver brings the boys a bit of simplicity with the Fragment watch. Also available is the Quiksilver Addictiv, Quiksilver Lanai, Galactica, Traction and Quiksilver Slam watches for something a bit more exciting ' whatever you want.
Born in the water and making waves on land for years, Roxy and Quiksilver have got it all – fashion, flavour and a following like no other. Get your Roxy watches and Quiksilver watches at Blackleaf.com – coming soon.