This season has seen a great innovation from the world famous surfer and outdoors lifestyle brand Reef as shown with their latest Reef Swellular Sandals.  Known for crafting premium clothing, footwear and accessories suited to life searching for the perfect rip, Reef understands that every journey can be as important as the destination so the comfort, reliability, performance and overall quality of each product needs to reflect that.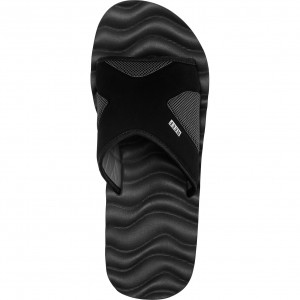 Reef Swellular Sandals such as the Reef Super Swell Ladies Sandals and Reef Swellular Slide Sandals found here at Blackleaf feature the technology of the same name that has three key areas of focus; comfort, support and traction.  The traction element comes from a sawtooth rubber design construction for a better than average grip, plus it is high-density so much more hard wearing than your average pair while being very flexibility.  The midsole portion is a mid-level density moulded 3D Swellular EVA foam for lasting support, while comfort is assured in every step from a textured anatomical footbed designed with a wave like effect for added style and highlighting their aim of putting "The sea in every step".  All three make for a great walking experience whether at the beach, relaxing at home or walking around town.
In addition the Reef Swellular Slide Sandals include one of their popular features, the church key bottle opener, so you can enjoy a refreshing bottled drink with ease.