Each year during the Tour de France riders rely on their vision and as the light conditions can change from being a vibrant sunny day to grey and overcast any number of times, so quite a few wear Oakley Sunglasses; particularly the Radarlock so to give them a specific pair of glasses to meet their and any other riders needs is the special edition Oakley Tour de France Radarlock Sunglasses.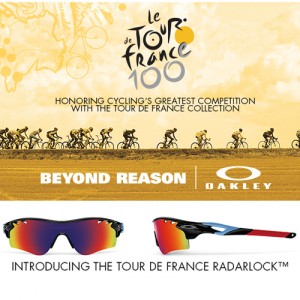 These Oakley Radarlock Sunglasses have been expertly designed to give riders the best vision for the conditions they are most likely to face with the usual technical advantages that Oakley put into each pair of shades.  The Switchlock lenses allow for a swift, easy change between types when the light alters and both of the lenses included with the sunglasses are not only made from Plutonite which protects you against ultraviolet light in all three A, B and C ranges but also blue light up to 400nm, but the lenses also have High Definition Optics with a Polaric ellipsoid shape giving the sharpest vision possible.  Due to the curvature they also provide side protection from the sun and wind.  The two lenses that come with these are a G40 lens that enables you to see things not normally easily visible in low and flat light, but when the sun comes out the Red Iridium lens balance and filter light while reducing glare as well.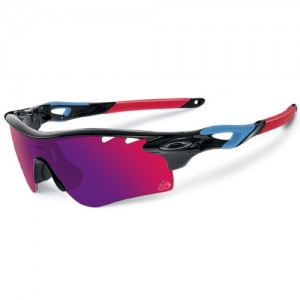 Like all Oakley's the Oakley Tour de France Radarlock Sunglasses have frames made from O-Matter which is both lightweight and stress resistant and has surge ports for a cooling airflow.  The frames also have Unobtanium earsocks and nose pads which give you better grip when you sweat and an all-round secure and comfortable fit.  The colourway on the Oakley Tour de France Sunglasses is primarily polished black but is highlighted by red and blue representing the French flag.
So if you're wanting your very own pair of shades perfectly optimised for long distance cycling then you can't ask for better than the Oakley Tour de France Radarlock Sunglasses available at Blackleaf.com today.