If Ryan Sheckler approached you and said 'design me a shoe that's perfect for my sport', some would jump at the chance and create something that's probably not right, whereas others would run a mile to avoid such a challenge. But etnies is the brand that was approached, designed and then created the perfect piece of footwear for arguably the world's best skater and today, it's as popular as it's ever been. The latest Etnies Marana Vulc Shoes are just about to come into stock at Blackleaf.com, and we're pretty excited about these awesome new styles.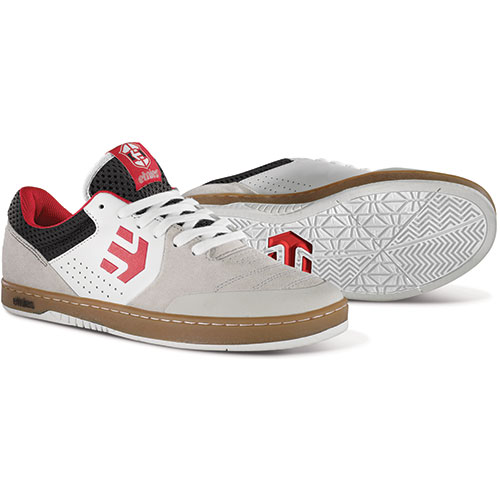 But while you're waiting for the new sneaks to come in, why not take a look at the current etnies Marana Shoes which are available in a multitude of colour combos. The etnies Marana is the perfect blend of strength and style thanks to its awesome combination of long-lasting fabrics and materials, and it's brilliantly crafted design. But it's the names that come with the Marana that have really shown the skate world that this is the shoe that you've got to have in your collection. Not only was it designed for skate star Ryan Sheckler but it's also endorsed by the likes of Julian Davidson and Nick Garcia, and it's also constantly being updated with new colourways to suit every season and every kind of style.
But beneath its good-looking exterior is a packed-out list of tech that makes the Marana a big player on the skate scene. Lightweight and impact-resistant STI Evolution Foam ensures that cushioning is not just evident, but it sticks around, and the rubber toe cap makes it a job to wear through – even when you're adamant that you will pull a trick to perfection. The real winner is the sole of this shoe with its non-slip grippy herringbone treat that's almost impossible to wear down in a hurry; this shoe is durable and built to last whatever kind of skating and tricks you throw at it.