Christmas is over and while you might think that the need for a new belt is somewhere along the same lines of the need for a submarine in a city centre, you'd be wrong. January is dark, wet, windy and boring so the need for a bright and colourful addition to your waistband is almost essential and with the fantastic new Vans Belts that have arrived at Blackleaf you can enjoy a flash of stylish colour and good looks in one go.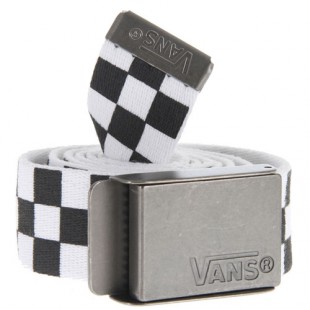 Available from as little as £12.95 and with most styles now on sale, the Vans Web Belts come in a choice of different styles to suit all of your pants. Jeans, trousers or chinos – you name it; Vans have got a design that works. From the classic black and white checkerboard print to wild cheetah print and even the simpler muted tones of grey, Vans know that everyone's got their own style and preferences when it comes to their accessories.
But this is where Vans have got their methods spot on and stick to what they know best. Like their hugely popular footwear, Van Belts keep in touch with their roots and maintain the designs and prints that they're best known for so if you're looking for the belt that matches your shoes you'll find it here.
There are plenty in stock but they won't be for long, get your hands on one of these Vans Belts at the best price today and give your waistband a lift.