When the time comes to brave colder, wetter weather which can often appear unexpectedly here in the UK you have to put on your winter coat but instead of buying a new one each year because of sub-par quality why not get yourself one that will not only last you through many seasons to come but remain comfortable and warm too like the bestselling Carhartt Anchorage Parka.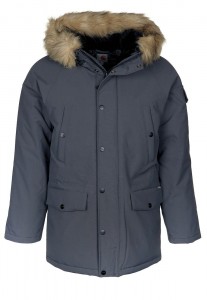 Here at Blackleaf.com we only carry premium brands like Carhartt who specialises in premium quality durable clothing that is clearly influenced by their original workwear lines that were first produced back in the end of the nineteenth century.  The Carhartt Jackets available today like the Carhartt Anchorage Parka makes the most of their accumulated experience and expertly combine it with a modern casual urban style.
The popularity of each Carhartt Anchorage Parka is due to the excellent features that the jacket offers.  Each Anchorage Parka is made from tough and hard wearing 100% nylon with a quilted and padded lining, a faux fur trim that can be removed and a fleece lined hood keeping you nice and toasty on chilly winter days; they even have storm cuffs preventing biting wind from causing an icy breeze up your arms.   There are also sizeable padded pockets for keeping your hands warm or important items away from the elements.
Get yourself the best jacket you can ready for the cooler weather in plenty of time with the Carhartt Anchorage Parka coming soon again to Blackleaf.com and in the meantime be sure to look at the collection of Carhartt Jackets and Carhartt Clothing currently available.