Stanley Bottles & Flasks hardly need an introduction as they have been a staple to workers and everyone who enjoys all aspects of the outdoors lifestyle but we are happy to have their premium collection available here at Blackleaf.

The Stanley brand has more than a hundred years of history which began with the classic, reliable Stanley Vacuum Steel Flask that revolutionised the way we keep beverages insulated.  This innovation has seen a few enhancements over the years but the core method has remained the same and also allowed for a wide array of Stanley Cookware and products to be developed and created.  This collection of Stanley products includes everything from mugs, jars and water bottles to more easily consume drinks and foods to Stanley Cooking Sets for the preparation and heating of consumables at the camp site.  Stanley also has a selection of food containers like lunch boxes and coolers, all of which are made with the same level of quality materials and designs as the trusty original Stanley Flask so they are built to last and be used time and again.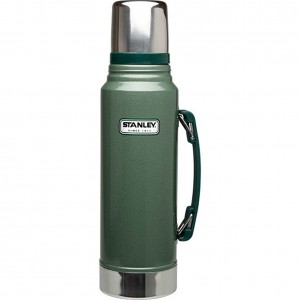 Being made predominantly from Stainless Steel means each of the Stanley Bottles & Flasks are naturally BPA-free and durable and many have eCycle recycled plastics as they are much kinder to the environment.  Adorned with the iconic logo and instantly recognisable colours of brushed steel or hammertone green that makes up their unique style, you cannot beat the reliability and function of a Stanley Flask, Cooking Set or container.