Get back to Basics with Vans New Range
Get back to basics with Vans new range of shoes. Designed to keep things simple with the classic style that has been worn by a few generations since 1966. With Vans you know that they've been tried and tested by the best making sure Skaters the world over have the best quality in footwear and look cool at the same time; still proving that when it matters, the originals are the best.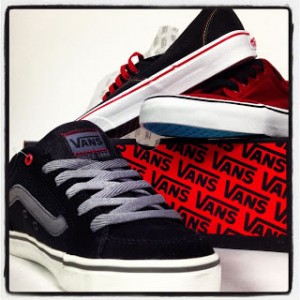 Back in 1966 when the Van Doren brothers opened a shoe factory in Anaheim; California, they had no idea their simple design would become an unrivalled icon on the Skating lifestyle and community that would withstand the test of time. With a few lows mixed in with the vast highs throughout Vans' history, they've come out stronger than ever; cementing their status as a leading brand. In 1976 Vans released the #44 which was quickly made famous by Skaters because of non-slip soles and the fact that their construction and design made them able to take a hammering – a key must-have feature when performing tricks and stunts. Since then Team Riders and Pro-Skaters like Geoff Rowley and Tony Trujillo have worked hand in hand with Vans to continue to produce shoes to inspire
and compliment
a culture across the globe. The fact that some of the world's top Pro-Skaters started out with a pair of Vans and are still proud to champion them today speaks for itself.
Today they still run the massively successful 'Warped Music' Tour and are even opening a couple of Skate Parks: one of which is free – how's that for giving back to the people who put you on the map?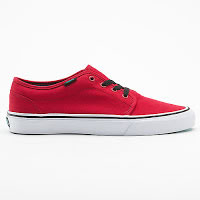 Keeping in line with their trademark styles and designs; Vans have some new ranges available that will look pretty familiar to fans, but with a few changes here and there. Their Classic Vans 106's now come in Chili Pepper Black for those wanting to stand out a little more, plus a whole range of retro styles with Vans Eras and Michoacáns with some Vans Authentics thrown in. For the Hardcore Skaters there are some stylish Vans Transistor and Collins designs for that needed extra comfort and grip.
There;s no doubt about the quality and style of Vans and at Blackleaf.com we are proud to be authorised retailers for their range of products. As well as Vans shoes; we also stock a range of Bags, Belts and Apparel to compliment the iconic and innovative look to keep you in style out in the streets.