Dads are awesome; we love Dads! And this week at Blackleaf we're bringing you some of the best gifts to show yours that you love him and think he's as awesome as we do. Not that we know your Dad because that would be a bit creepy, its just guesswork but we're thinking that he's probably your favourite person in the world. But all Dads are different; some like to spend their time outdoors in mud and rain trekking up hills and then dragging a load of dirt through the house for Mum, whereas some Dads enjoy spending their spare time on a board in the sea riding waves all day to their hearts content. But then there's the Dads that are just too stylish for their own good; skater Dads, long boarding Dads, BMX Dads and the sort that have got gear for every sport and no time to do them – yeah, we've got something for them too; here's a few ideas.
Outdoors Dad

If your childhood memories are filled with exploration that saw you scrambling through the forest and rolling down hills, trekking up mountains and camping by a fire that you sourced the wood and created the spark for all by yourself; then something to inspire another trip outdoors is the perfect gift for an adventurous Dad. We've got a great selection of Sleeping Bags, Hiking Rucksacks and Walking Shoes for all kinds of outdoor ventures. Some of our best sellers are the fantastic Merrell Walking Shoes such as the Merrell Chameleon Wrap Slam Shoes and the Moab GoreTex Shoes – if they're good enough for Bear Grylls, they're good enough for your Dad! On a budget? Why not treat him to one of the new Light My Fire Camping Accessories and enjoy a meal under the stars by the tent with your favourite bloke.
Beach Bum Dad

Lazy days on the beach with Mum soaking up the sun while Dad messed about in the waves with the kids – that's what summer holidays were all about. Nowadays, Dads days by the beach are probably more of a chance to relax; unless he's got young kids or a board sport hobby. Whatever kind of beach bum Dad you have, sandals are always a winner; especially Reef Sandals and super cool and colourful Havaianas Sandals too. If your Dad prefers to spend his time in the water then we've got a great selection of boardshorts from our best-selling brands including Billabong, Hurley and Ripcurl to name just a few. Looking for a cheaper option? Then we've got some great budget Santa Cruz Sunglasses and Vans Sunglasses to keep the sun out of Dads eyes while you're burying him in a sand pit.
Skater Dude Dad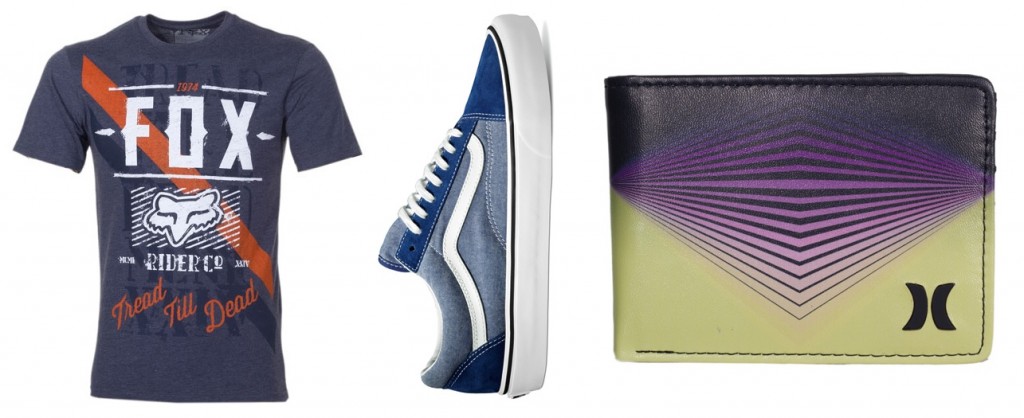 Not all Dads are past it, over the hill, a bit aged before their time; some of us have a Dad that likes to enjoy the sports they were taking part in back in the day when their own kids weren't even a glimmer of thought. And why not? You're never too old to jump on a board and try out a trick or ride to the pub and back on a BMX. This Fathers Day we know that buying a new bike or deck might be a bit excessive but Skate Tees, Shoes and accessories look awesome whether you're wearing them on or off your ride. We've got some great new Fox Racing T-Shirts and new gear from Element; as well as comfortable and stylish new Vans Shoes and Slip Ons. But if your Dad's wardrobes are full then treat him to a cool new wallet or belt from of our great selection from Hurley, Nixon and loads more.