It's a collaboration that we've been looking forward to, and when you cast your eye on the Emerica X Thrasher Shoes it's pretty simple to see why they've caused a bit of a buzz around the skate scene. Mashing up Emerica quality and Thrasher style, the result is a few pairs of shoes that'll definitely need to make an appearance in your collection. Adding to our existing bunch of awesome Emerica Skate Shoes the new Emerica Romero Laced X Thrasher Shoes and Emerica Reynolds Low Vulc X Thrasher Shoes comes in at less than £50 and won't be around for long.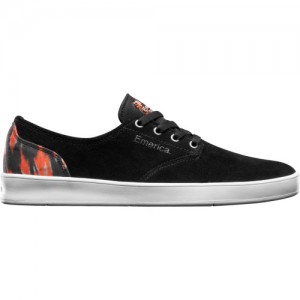 Designed, tested and approved for skateboarding by Leo Romero himself, Emerica The Romero Laced Shoes features updated spec from the classic laced design. A snug fit is provided via a tongue stabilising wing, low profile cupsole gives you maximum board feel, and the Emerica Triangle Tread gives the best grip and durability so whether you're pulling tricks or just keeping it casual, your feet are sticking firmly to the ground when you need them to.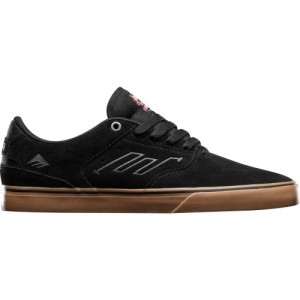 The Emerica Reynolds Low Vulc Shoes stick with their original design brief and keep low profile control at the core of their construction so that board feel is at the top of their priorities. The tongue and collar are thin so you get a slimmer fit and more comfort, and a full length ortholite footbed for that bit of extra awesomeness.
Not only are the new Emerica X Thrasher Shoes all about the skating but they're also conscious of what it takes to look good too. Style and design is a big feature on these shoes and probably the reason that they're set to sell really well. Get your hands and feet on a pair today before you miss out.