Now is the time of year for enjoying music festivals and weekend away camping trips but we all know how hard it can be carrying around gas stoves and canisters or even finding enough wood for building a firepit so you can cook your meals or stay warm if the evenings are a bit chilly so the team at Biolite have created the BioLite CampStove which is an easy way to not only generate the heat you need but is environmentally friendly and will generate electricity too.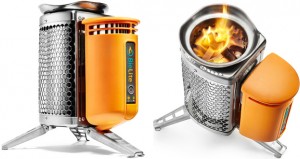 Alleviating the need to go searching for branches and wood; which is near to impossible to find at festivals; the Bio Lite CampStove can be run from small twigs, sticks and even pinecones by setting them alight with the included firelighter which heats the thermoelectric generator and in turn generates electricity to power the fan which causes the fire to be more efficient and the USB charger so if you run low on power with your phone or MP3 player you can charge them back up.
Due to the addition of the fan it means that more of the heat generated gets used and less released into the atmosphere so the BioLite Stove is much more efficient than an open fire and can make between 3.4 and 5.5kW and on average takes four and a half minutes to boil a litre of water at maximum output so you don't have to wait long for the first tea or coffee of the day.  If you need to charge any USB appliances then you can expect 2W at 5 volts for continuous charging or 4W at 5V at peak if you're in a hurry but it does take approximately 46 grams of biomass to boil a litre of water.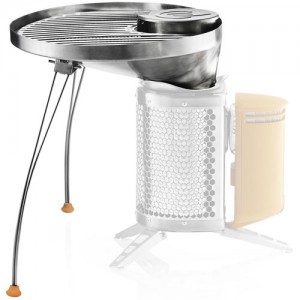 The Biolite Grille Cook System uses the same innovative method of burning easy to find sticks but allows you to easily cook your meals on the grill and give you a wood fired flavour too by attaching directly to the BioLight CampStove.  The Grille cook system is also easy to stoke up the flames if you need to by simply flipping open the fuel intake lid for direct control.  You can enjoy these easy to use and eco-friendly ways of making your meals on many a camp trip or festival to come; just check out the BioLite CampStove and Grille Cook System today at Blackleaf.com.