We all know concentration is important when you're cycling and with a number of distractions that can come from weather conditions like a sudden ray of sunlight on a previously overcast day or a gust of wind momentarily blurring your vision can be dangerous which is why finding a decent pair of cycling sunglasses is important like the Oakley Radarlock Sunglasses range.  Now the ultimate pair of Oakley Cycling Sunglasses has arrived in the form of signature edition Oakley Radarlock Path Mark Cavendish Sunglasses.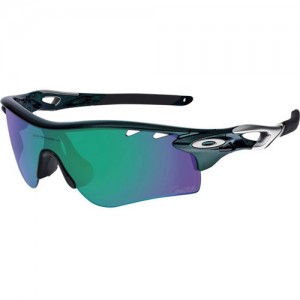 The technologies and features of Oakley Radarlock Sunglasses make them perfect for cyclists on any route or track, like the lenses which are not only interchangeable with Oakley Switchlock so you can pick the right type for the conditions but are made with Oakley High Definition Optics making them the clearest lenses available all along the lens, including the periphery making them exceptionally sharp and they're impact resistant and perfectly meet ANSI Z87.1 requirements.  Each lens is made of Oakley Plutonite which not only filters out UVA, UVB and UVC rays completely but also up to 400nm of harmful blue spectrum light too.  The lenses included with the Oakley Radar Path Mark Cavendish Sunglasses are his preferred types – the jade iridium vented lenses which offer reduced glare and balanced light transmission and clear vented lenses perfect for overcast or wintry conditions.
If that's not impressive enough then the features of the Oakley Radarlock Mark Cavendish Sunglasses will certainly do the trick as each frame is made from O-Matter which is surprisingly lightweight considering they're durable enough to resist impacts and stress placed on them, plus with Unobtanium earsocks and multiple Unobtanium nosepad customisable fit options you can not only enjoy wearing the Oakley frames in superior comfort but when you sweat the Unobtanium actually increases its grip securing them to your face.  The frames on the Oakley Mark Cavendish Sunglasses are a metallic green colour to match the iridium lenses and feature surge ports allowing a cooling airflow for extra comfort.  Not only all that but they also have a three-point fit that holds the lens in precise alignment as well.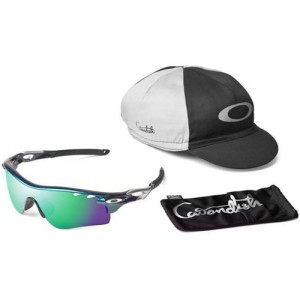 As these are part of the Oakley Signature Series they feature lens engraving confirming so and also come with a custom Microclear bag and a custom cycling cap too and are available right here at Blackleaf.com.