Montane has always been a brand rooted in passion for exploration, especially in the hardest to reach and hidden places of the world which makes them the ideal choice to be one of the brands to design essential gear for The Coldest Journey Expedition.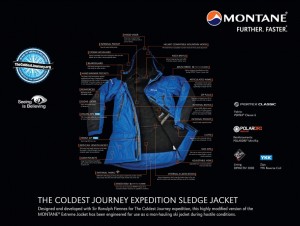 The expedition was originally led by Sir Ranulph Fiennes until he had to unfortunately return to the UK after developing frostbite, but now with the remaining five members they continue to be the first people to journey two thousand miles across Antarctica during the winter in near total darkness and facing temperatures down to -90 degrees centigrade.
As they traverse one of the harshest environments on Earth the expedition is also conducting scientific experiments to determine the affects of climate change, to search for cryo-bacteria and if found to determine how they survive but also to map the Antarctic landmasses height in full for the first time – all of these will provide invaluable data for the future.
Prior to the expedition launch Montane worked closely with Sir Ranulph Fiennes and the team to design unique Montane Sledge Jackets and Montane Rucksacks that will aid them in their journey.  The Montane Jackets are specifically produced to keep the team warm at temperatures as low as -70°C and protect them from harsh winds and tough working conditions.
The standard collection of Montane Jackets is perfectly suited to any cold weather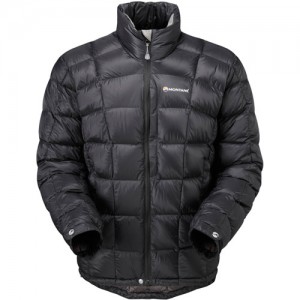 excursions of your own with incredible features like PRIMOLOFT ECO insulation to keep you warm in the coldest climates, the PEAQ Down liner that not only gives you extra comfort but is also highly breathable and moisture wicking so you'd don't have to worry about a build-up of sweat but also PERTEX micro-light Ripstop to prevent any snags or tears you may inadvertently get when travelling through harsher terrain but also give good wind resistance as well.
So if you want incredible cold weather gear you don't have to look further than Montane and the extensive range of Montane Jackets, Montane Rucksacks, Montane Pants and more and at cheap online UK prices too in the latest season range and styles all at Blackleaf.com.
Rumour has it that Montane Sleeping Bags are in the pipeline and if so you can expect to see them on Blackleaf.com. If this comes to fruition we are expecting the usual from on of our favourite brands – top quality materials, packed with innovative features, light weight and warm.