In recent years Vans has expanded into going beyond their iconic, classic footwear designs that spawned the famous 'Off The Wall' waffle outsole and has begun producing new product innovations for all aspects of the outdoors lifestyle.  At Blackleaf.com we have the latest from the Vans Weatherised MTE Shoes Collection ready for you to slip into and take on cooler, wetter weather.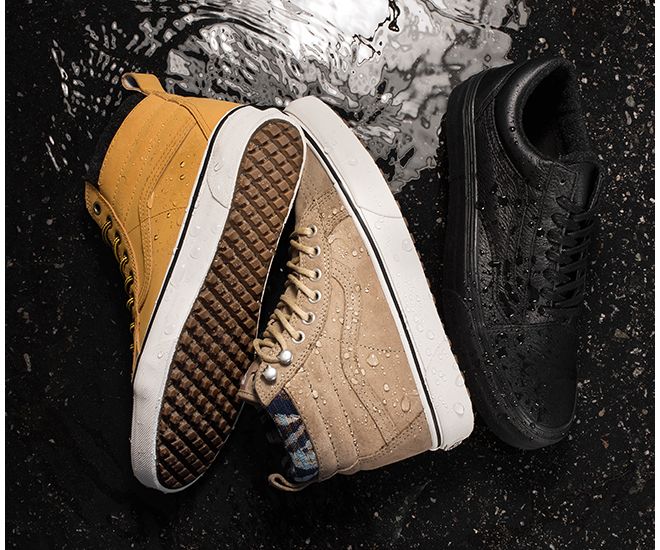 The MTE stands for Mountain Edition and differentiates these shoes styles from the rest as many are re-invented favourites like the Vans Old Skool, Vans Era and Vans Sk8 Hi Shoes but feature premium technologies and materials so they can take on the elements like Scotchgard treated uppers and gusseted tongues for water repellency.  Internally the Vans Weatherised MTE Shoe Collection has features like fleece socklining for increased warmth and an additional heat retention layer for more effective insulation and protection from moisture.  The outsole construction in the Vane Mountain Edition Shoes is a merger of the famous Waffle sole with Vans Snow boot elements so that the pattern is reversed to create deep lugs for traction and grip in wet and snow conditions.  Having the quality 'weatherised' technologies and materials makes the Vans MTE footwear ideal for throughout the year.
Alongside the classic Vans shoe styles other more recent designs like the Vans Buffalo MTE Boot from the LXVI series, the Vans Breton SE MTE Boots, Fairhaven MTE and Midslip MTE shoes are also available in mens and womens variations along with standard colourways like Black, but also newer ones like Dress Blues and Glazed Ginger.